Regulating Away Abortion: How State Governments Are Running Abortion Providers Out of Business
By Esmé E. Deprez
Bloomberg Businessweek, Jan. 18, 2013
In January 2011, Michigan state Senator Rick Jones, a former sheriff from Grand Ledge, introduced legislation that would dramatically raise the costs of providing abortions in the state. Senate Bill No. 54 would require fetal remains to be cremated or buried separately from other medical waste and make noncompliance a felony punishable by as much as three years' in prison or a $5,000 fine, or both.
Soon after the bill was introduced, Renée Chelian, a petite 61-year-old who opened her first abortion clinic in suburban Detroit in 1976, called every funeral director and cremation company in the metropolitan area to see if they'd be willing to handle fetal remains from her clinics. Most told her no.
When she finally found one willing to comply with the guidelines, the quoted price was $250 per disposal — which would almost double the cost of most abortions at her clinics and was way more than most patients could afford. If the Jones bill as proposed were to become law, Chelian calculated, she and other abortion providers might go out of business.
Intimidation, harassment, and the threat of violence used to be Chelian's biggest preoccupations. Her photo is posted on antiabortion websites, her home has been regularly picketed, and one of her clinics was once doused in butyric acid, a clear, colorless liquid that "smells like 1,000 people lined up and threw up," she says.
In recent years, however, the main threats to abortion providers have come not from noisy picketers and protests but from regulations passed in statehouses across the U.S. Requirements that abortion providers be regulated more like hospitals than doctors' offices may shutter most, if not all, clinics in Virginia, Kansas, and Pennsylvania. A Mississippi law mandates that abortion doctors secure admitting privileges at local hospitals, and could force the state's last surviving clinic to close its doors.
Instead of seeking to ban abortion outright, which would violate the Supreme Court's 1973 ruling in Roe v. Wade, antiabortion groups are pushing laws that would make it too expensive for providers to remain in operation.
"If someone woke me up at 2 a.m. and asked me what's the greatest threat to providers today, these laws would be the first thing I'd say," says Carole Joffe, a reproductive health sociologist at the University of California, San Francisco who has chronicled the abortion industry for the past 35 years.
***
The headquarters of Northland Family Planning is located in the Detroit suburb of Westland, in a standalone one-story building separated by parking lots from a GameStop store and a bank. On a cold morning in early January, Chelian is trying to decipher how new regulations will affect her business. She takes a call on her iPhone from a representative from a medical-waste company that Chelian worries will face pressure from antiabortion activists to drop her as a client.
"I don't want them to start harassing you," she says. "Do you have any vehicle you can pick up in that doesn't have your name?" Yes, the man replies. "I mean, it's your business and you have to do what you have to do, but I don't want to lose you as a contractor because you had the name on your truck." She hangs up. "Without medical waste pickup, we're in trouble," she says.
It's one of the first times in months that Chelian has been in her office. Unpacked boxes from a 2010 renovation surround her desk. For the past two years, Chelian delegated payroll and other clinic-running duties to employees while she logged some 11,544 miles (18,600 kilometers) in her dark gray Ford Explorer driving to and from Michigan's capital, Lansing, to lobby lawmakers and participate in rallies against antiabortion proposals.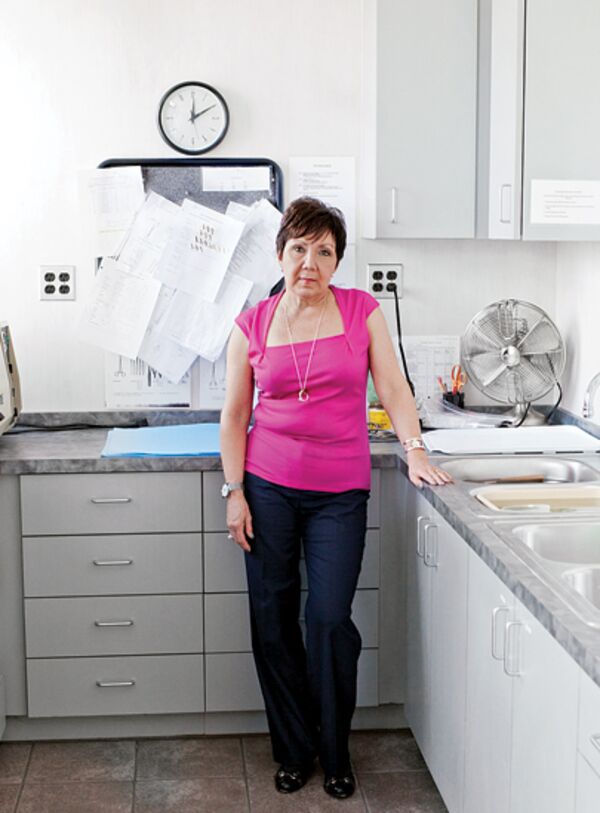 PHOTOGRAPH BY AGNES THOR FOR BLOOMBERG BUSINESSWEEK
Chelian grew up in inner-city Detroit, the oldest of five children born to a Syrian-Lebanese Muslim father and an Irish Catholic mother. In 1966, at the age of 15, she had an illegal abortion.
Her father accompanied her to a parking lot where they were blindfolded and taken to a nearby warehouse. For $2,500, a man packed her uterus with gauze to induce labor, and after some complications, she passed the pregnancy on the toilet at home.
She now guesses she was about 16 weeks along. It was decades before she told anyone about the experience, which provided motivation for her career.
"I don't want my daughters or any other woman to be faced with that," she says.
In 1976, having taken some nursing classes, Chelian was working as an assistant to an abortion doctor and felt she could run things better. She envisioned a model that offered emotional counseling to women undergoing abortions.
Chelian and her husband, Eddie, a policeman at the time, opened Northland using their life savings of $100,000. She has since expanded the business to three clinics in the Detroit area. In 2011, Northland's five doctors performed nearly a quarter of the 23,366 reported abortions in the state.
In virtually any other context, a taxpaying small business owner like Chelian, who employs 36 people and has invested millions of dollars into her 37-year-old enterprise, would be praised by politicians as the backbone of the American economy.
In places where abortion is accessible, it's partly because people like Chelian recognize it as a business opportunity. Her clinics had gross revenue of about $3.52 million for fiscal 2012 but lost $1,818, according to their accountant.
Even so, Chelian and her husband, who oversees security and finances at the clinics, earned $203,000 last year in salary. They live in a 6,500-square-foot home in the upscale neighborhood of West Bloomfield, near where Mitt Romney grew up.
"My husband and I worked" hard, she says. "We paid for our kids' college education."
And yet Chelian has dealt with challenges that few others in the health-care field must face. She spends thousands of dollars annually on security guards and has hired private detectives to monitor opposition groups' plans. She has had two lease renewals denied and was evicted once because of protests staged outside her clinics.
Wary of her image when she testifies in Lansing, she removes the 2-karat diamond engagement ring her husband gave her more than 40 years ago, lest she fuel a perception of herself as a profiteering abortionist.
***
On Dec. 28, Michigan Republican Governor Rick Snyder signed an omnibus bill combining multiple abortion-related measures. It was the culmination of two years' debate about whether and how abortion should be regulated in the state.
The law prohibits doctors from prescribing medication abortion, a chemically induced miscarriage, via webcam — a practice used in some states to expand access to rural communities where doctors aren't present. The law also requires that patients be screened to ensure they weren't coerced into getting the procedure.
Providers who advertise outpatient abortion services and perform 120 or more surgical abortions a year must now be licensed as freestanding surgical outpatient facilities.
Antiabortion groups lauded the bill's passage.
"Licensing and inspecting abortion clinics for health and safety standards will serve to better protect those women who, regrettably, choose the path of abortion," said Rebecca Mastee, a policy advocate at Michigan's Catholic Conference.
At the same time, the legislation signed by Snyder represented a victory of sorts for abortion-rights advocates. They succeeded in throwing out or diluting provisions such as a ban on abortions beyond 20 weeks and a requirement that abortion doctors have personal-liability insurance coverage of at least $1 million.
The fetal-remains disposal measure introduced in the Senate was modified to allow the incineration of fetal tissue along with other medical waste, and reduced the penalty for noncompliance to a civil fine of $1,000.
The most threatening part of the law is the need to conform to hospital-like standards, says Chelian. One stipulation requires abortion clinics to install special gooseneck scrub sinks. Another says recovery rooms must provide 80 square feet (7.4 square meters) of floor space per bed, three feet between each, and one lavatory for every six patients.
Corridors must have a minimum width of six feet — Chelian estimates most are currently closer to five, which is large enough to fit a stretcher. Unless she can successfully attain waivers for such things, Chelian estimates the needed renovations would cost more than $1 million, an expense she says she can't afford.
Chelian's clinics perform 19 abortions a day on average. If patients are required to remain in recovery for at least three hours, with a physician present the entire time, that number would be cut in half, which could force Chelian to raise her rates.
Many clients — often minorities, poor, and with little education — already have difficulty scraping together the $325 that most abortions (up to 12 weeks' gestation) cost. That price subsidizes the costs of pap smears, contraception such as birth-control pills and condoms, and other services that make up the majority of her business, she says.
Denise Burke, the lead author of regulations at Americans United for Life, which helps to write legislation like Michigan's, argues that the courts have never stipulated that abortions must be affordable or that providers ought to earn a profit.
To underscore the point, she cites the high court's own words in the landmark Planned Parenthood v. Casey in 1992, which upheld states' rights to restrict access: "The fact that a law which serves a valid purpose, one not designed to strike at the right itself, has the incidental effect of making it more difficult or more expensive to procure an abortion cannot be enough to invalidate it."
Charmaine Yoest, the president of Americans United for Life, points to the 12 women who died from abortions in 2009 and examples of filthy clinics discovered in Kansas and Pennsylvania as proof that all abortion care must be more closely regulated.
That argument is echoed by Jones, the sponsor of Michigan's fetal remains bill. "What we have done is make a safer environment for all women in Michigan," he says.
Federal data show abortion to be one of the safest medical procedures in the U.S., posing less risk of death than getting a penicillin shot and 14 times safer than carrying a pregnancy to delivery.
"Anyone who talks about the dangers of abortion is just blowing smoke," says David Grimes, a former chief of abortion surveillance at the federal Centers for Disease Control and Prevention and a leading researcher and abortion provider. "These kinds of regulations do nothing to advance women's health," Grimes says. "All they do is drive up the cost of care and cause women to delay, which drives up the risks."
Under the Obama administration, abortion-rights proponents have won significant battles on the national level, fighting back attempts to cut off funding to Planned Parenthood and to eliminate the Affordable Care Act's requirement that most health plans cover contraception free of charge. But abortion foes have made unprecedented headway at the state level.
After Republican gains in statehouses in the 2010 midterm elections, lawmakers in 24 states passed a record 92 provisions that restrict access to abortion services, according to the Guttmacher Institute, which researches and compiles data on reproductive health. That's almost triple the old record, set in 2005, and a sixfold increase over 1985.
Abortion providers say the laws have made their business more arduous and sliced into their earnings. By 2008, the latest year for which Guttmacher has data, the number of providers, which includes doctors' offices and hospitals, had fallen 38 percent from their 1982 peak, to 1,793.
Independent, for-profit clinics like Chelian's are where the majority of abortions in the U.S. are performed. But they lack the lobbying muscle, fundraising capabilities, and public funding of Planned Parenthood, the country's single largest abortion provider, and are thus more vulnerable to regulation.
Many of the 26 "indies" that have closed in recent years say it's because they've been run out of business by or forced to merge with Planned Parenthood affiliates, and 19 more say they're in "serious trouble," according to an informal survey conducted by independent providers. Demand is also declining: The abortion rate fell in 2008 to its lowest level since 1974, according to Guttmacher, partly because of more-effective contraceptives.
That financial squeeze on providers is likely to continue. Legislation pushed by abortion opponents increasingly targets the supply side (the providers) over the demand side (patients), part of "an aggressive new thrust on the part of abortion opponents," says Theodore Joyce, a research associate at the National Bureau of Economic Research and economics professor at Baruch College.
It's an effective strategy. In a 2011 New England Journal of Medicine article, "The Supply-Side Economics of Abortion," Joyce used Texas as a case study to compare demand- and supply-side laws.
The state's Woman's Right to Know Act, which took effect in 2004, contained components of both. On the demand side, it required patients to wait 24 hours before undergoing an abortion; on the supply side, it required providers performing abortions at or after 16 weeks' gestation to be ambulatory surgical centers. None of the state's nonhospital providers qualified at the time.
Joyce showed that the demand-side measure had no effect: From 2003 to 2004, women less than 16 weeks pregnant underwent abortions at the same rate. But the supply-side policy changes "had all the bite," he says: Abortions in the state conducted after 16 weeks declined by 88 percent.
Courts are now clogged with challenges to the new wave of regulations imposed on abortion providers at the state level.
Even in cases where waivers and grandfather clauses exist, states have "created an environment that makes it practically impossible for any new medical practices to open," says Nancy Northup, president of the Center for Reproductive Rights, which provides clinics like Chelian's with pro bono legal assistance.
Michigan's law also prevents abortion providers from transferring licenses: If Chelian dies, Northland's doors close for good.
For now, Chelian has a business to run. There are more than a dozen other clinics within an hour's drive. She competes by offering the cleanest and most-comfortable surroundings and best-trained staff, she says. Examination rooms have soft music piped in, overhead lights are on a dimmer, and landscapes hang on the walls.
Ever the entrepreneur, Chelian is looking to expand: Northland began offering adoption services last year and is now eyeing in vitro fertilization. After being hesitant early on, she no longer shies away from marketing what Northland is best known for.
"While we are a medical clinic that provides a medical service, we are also a business," she says. "We're not trying to sell it to someone who doesn't want one, but for someone who wants an abortion, we want them to choose us. Why would I let the (antiabortion) movement make me ashamed of that?"
https://www.bloomberg.com/news/articles/2013-01-17/how-state-governments-are-regulating-away-abortion