(An extremely abridged list.)
BUSINESSWEEK: A Fight to Die, Dec. 17, 2021
When I first learned of Sandy Morris, the patient plaintiff in a lawsuit about death, disease, and disability, my bones ached in recognition. I immediately thought of my dad. Like Sandy, he had ALS, and faced a version of the dilemma she now faces about when to die. So I jumped back down the rabbit holes of medical-aid-in-dying laws, America's conflicted relationship with euthanasia, and debates about what we owe people at end of life. A direct follow-up to the story below –>
BUSINESSWEEK: How I Helped My Dad Die, Jan. 27, 2021
The hardest and most personal I've ever written by a long shot, about my dad's insistence that his death, like his life, was his to control after ALS robbed him of independence and freedom. This is also a health policy story about end-of-life care and the right to retain control/autonomy as death nears and about dying gracefully amid the chaos of Covid-19.

BUSINESSWEEK: How Medela Lost Moms, Dec. 9, 2020
Medela has been the market leader in gear for new moms and babies for decades. With a series of innovative products and sales techniques, the company effectively created the modern breast pump and thus the working mother market — enabling (forcing?) breastfeeding moms to return to work without having to stop breastfeeding. And yet now, it's falling off the pedestal. This is a business story at heart, but also gets into the cultural quagmire of breastfeeding itself. Oh is it a quagmire! 
Bloomberg Green: Sea Urchin Ranchers Try to Stop a Delicacy From Killing the Oceans, Oct. 26, 2020
An overabundance of the spiky echinoderms is a slow-motion ecological disaster that portends poorly for the fight against climate change. It's here that a start-up called Urchinomics sees opportunity. 
BUSINESSWEEK: What Would Emily Oster Do? Oct. 8, 2020
A hyper-rational, bestselling Brown University economist applies the tools of her profession to help us make decisions, navigate everyday life, and stay sane amid a global pandemic.
BUSINESSWEEK: It's Tough Being the First Birth Control App, April 1, 2019
Lessons learned in the aftermath of a PR crisis. 
BUSINESSWEEK: What Happened When I Bought A House With Solar Panels, Feb. 14, 2019
An uncharacteristically personal investigation revealing how in real estate — as in life in general — it pays to do your homework.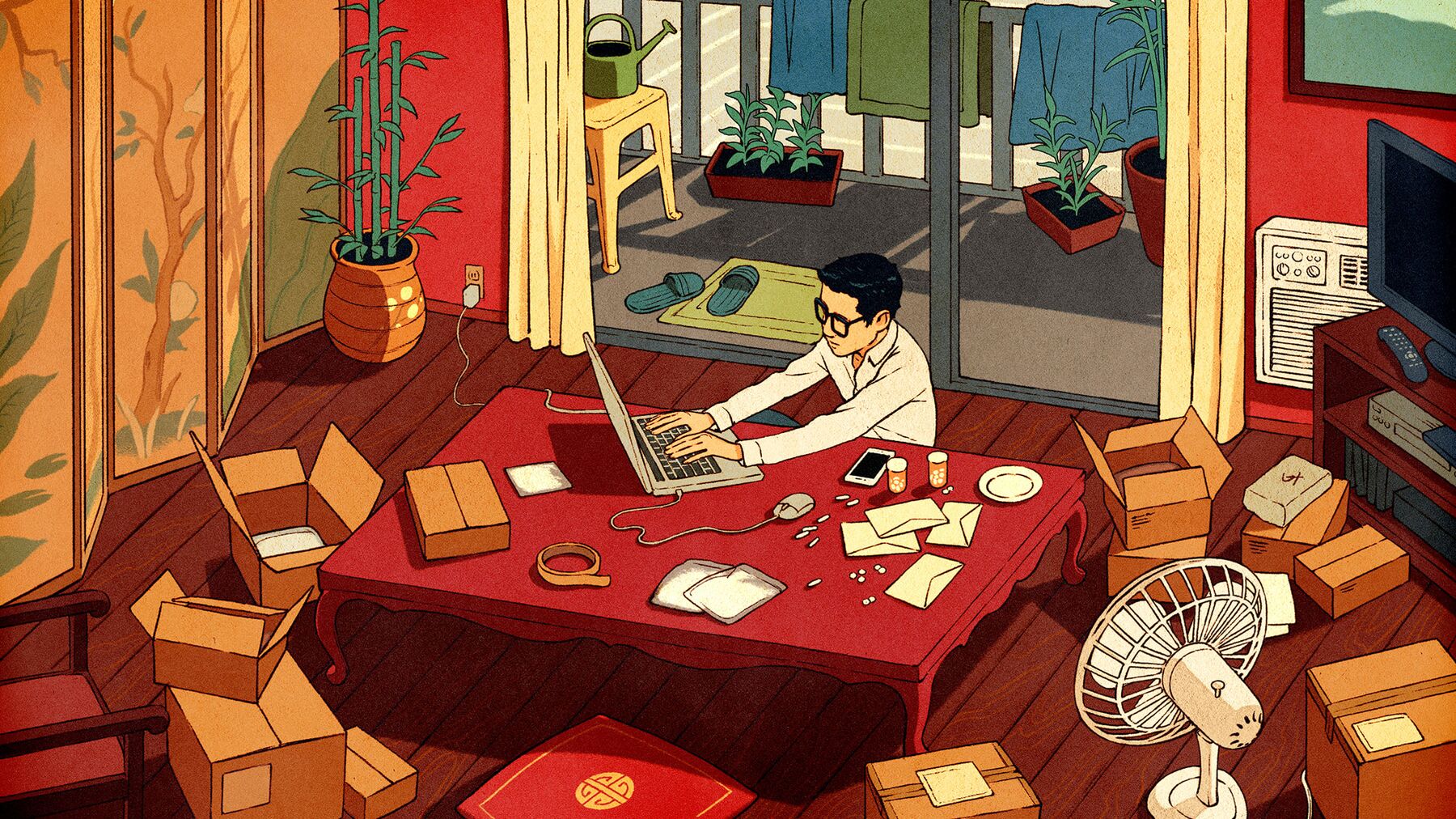 Deadly Chinese Fentanyl Is Creating a New Era of Drug Kingpins, May 22, 2018
I led a team of reporters and editors from six bureaus in Asia and North America to investigate the global supply chain of fentanyl and its rise to become one of the world's deadliest and most profitable narcotics. The narrative weaves together on-the-ground reportage, information from hundreds of pages of court documents and government reports and dozens of interviews — including the first (and still only) media interview with one of the world's most-wanted accused kingpins himself — to show how black-market businessmen and rogue chemists have transformed the international drug trade, upended global policing, and left behind a public health catastrophe in their wake. Retracing the byzantine path that took police investigators from a Mississippi parking lot all the way to Wuhan, China, the story gives readers an exclusive, behind the scenes look into what has become one of the most important and far-reaching attempts to prosecute the profit-seekers fueling the devastating opioid epidemic.

BUSINESSWEEK: Opioid Avenger: The Lawyer Who Beat Big Tobacco Takes on the Opioid Industry, Oct. 5, 2017
As Mississippi's attorney general, Mike Moore pioneered an untested and widely derided legal strategy in 1994 to sue tobacco companies for lying about nicotine addiction and hold them accountable for sick smokers' health-care costs. But as he's watched the tobacco victory pay off in declining smoking rates, easy access to powerful pain medication has sparked a new deadly crisis. He's convinced this is the moment to work the same mechanisms on drug companies that forced the tobacco industry to heel — and he's committed himself to making that happen. "Litigation is a blunt instrument; it's not a surgical tool," Moore told me. "But it provokes interest quicker than anything I've ever seen."
BUSINESSWEEK: Medical Journals Have a Fake News Problem, Aug. 29, 2017
'Predatory' journals are roiling the world of scientific research — with a little help from Big Pharma. 
Taking the Pulse of Trump's Heartland Voters, May 17, 2017
In the aftermath of November's election, there was the sense in many East Coast circles that it wouldn't take long for the voters of Middle America to regret their decision to put Donald Trump in the White House. We've found few signs of such remorse.
BUSINESSWEEK: This Robotic Baby Might Need Changing, Dec. 22, 2016
Infant simulators have become a staple of American education, reaching more than 6 million students at 17,000 schools (and used in 91 countries around the world). But a recent study in a prominent medical journal adds to a growing body of research raising serious doubts about their effectiveness in curbing teenage pregnancy. Here's what happened next as their manufacturer launched accusations of junk science to protect its bottom line.

BUS TO NOVEMBER, August 2016
     "Any questions? Alright, we gonna get outta here," the bus driver shouted in one breath before pulling out of downtown Philadelphia's Greyhound station.
     Yeah, we have questions. How has your life changed since 2008? What events have shaped you and led you to board this bus today? Does it feel like today's economy is broken for the working poor or middle class, the people who go by bus instead of planes or cars? Who's to blame? Whom will you choose in November to make it better?
     Over 3,041 miles and 11 states, in 15 buses piloted by 17 drivers, we listened to our fellow passengers discuss the country passing by the bus window. We traversed fault lines: the Ramapo in the Northeast, the Wasatch in Utah and the San Andreas in California. The most pronounced fault line was intangible: between those participating in democracy and those who wouldn't.
+ radio interview on KPCC's Take Two
Buffett-Backed Abortion Researchers Messed With Texas and Won, July 1, 2016

Teleprompted Trump May Be Boring But You Should Have Seen Hoover, June 29, 2016
Quicktake: Guns in America, June 23, 2016
BUSINESSWEEK: Abortion Clinics Are Closing at a Record Pace, Feb. 24, 2016
An exclusive compilation of clinic closures dating back to 2011 shows how, at no time since before 1973, when the U.S. Supreme Court legalized abortion, has a woman's ability to terminate a pregnancy been more dependent on her zip code or financial resources to travel.
Sanders's Wall Street Attacks Strike Home in New Hampshire Town, Feb. 8, 2016
The Battle of Precinct 41 Shows Democratic Race on Knife's Edge, Feb. 2, 2016
BUSINESSWEEK: The Faux Rock Stars leading an Indoor Climbing Revolution, Nov. 10, 2015
From a cavernous factory in rural Bulgaria, a little-known company led by a brash and eccentric rock climber-turned-theoretical physicist is cornering the global market for artificial walls.
California Shows How Much Paid-Leave Law Affects Businesses: Not Much, Oct. 22, 2015
Republican Plans to Raise Retirement Age Fall Heavily on Poor, Oct. 13, 2015
A Boom in Youth Shooting Teams Yields a Boon for the Gun Industry, July 9, 2015
Desperate From Drought, California Turns to Desalination, April 8, 2015
Immigrants Are Too Wary to Even Learn About Obama's Plan, April 1, 2015
A Target and a Threat: What It's Like to Be a Black Cop in America, Feb. 3, 2015
Officer Sims is on the streets every day fighting for his neighbors and his life. One morning it looked like he had to choose.
Quicktake: Income Inequality, Jan. 20, 2015
BLOOMBERG MARKETS: The Coyotes and the Banks: How U.S. Finance Giants Are the Conduit for Profits in the World of Human Smuggling, Jan. 16, 2015
Big U.S. banks are the one thing gangs smuggling Latin migrants over the border cannot do without. 
Kansans Trust Governor's Budget Fix After He Stripped It Bare, Nov. 6, 2014
In Arkansas, Booze Sellers and Churches Unite to Save Dry Counties, Oct. 27, 2014
Quicktake: Political Asylum, Aug. 28, 2014
Smuggler-Chasing Sheriffs Say They Need Money, Not Troops, Aug. 13, 2014
Honduran Boy Joins Rush to U.S. Border; Parents Must 'Give a Son to the Gangs,' June 20, 2014
Carlos boarded a bus last month using money he earned picking coffee beans and corn, fleeing the gangs of his native Honduras who'd threatened to kill him if he didn't join. The 17-year-old made it as far as a migrant shelter in Reynosa, Mexico, less than a quarter mile from the U.S. border, unsure of how to finish the trek.
Babies Pay for Detroit's 60-Year Slide With Mortality Above Mexico's, June 11, 2014
Prison Play: Goldman Sachs Bets on Gang Members Staying Out of Jail, May 8, 2014
Guns Allowed All Over — Except Near Politicians, Businessweek, May 15, 2014
Gun Bans in Capitols But Not Bars Draw Cries of Hypocrisy, May 7, 2014
Abortion-Rights Backers on Offense After 3-Year Drubbing, Feb. 24, 2014
Quicktake: Income Inequality, Feb. 18, 2014
NYC Taxi Drivers See Green as New Cabs Cruise to Brooklyn, Dec. 18, 2013
The Vanishing Abortion Clinic, Businessweek, Nov. 27, 2013
Illegal NYC Homes Thrive as De Blasio Tackles Housing Shortage, Nov. 21, 2013
NYC Firm BerlinRosen Helps De Blasio Go From Obscurity to City Hall, Oct. 28, 2013
How a 91-Year-Old Tech Geek Helped Keep the Elderly Independent, Sept. 18, 2013
Abortion Clinics Close at Record Pace After States Tighten Rules, Sept. 3, 2013
Flea Market Abortions Thrive as Texas Seeks to Shutter Clinics, July 11, 2013
+ radio interview on KPCC
At an open-air flea market outside McAllen, Texas, near the Mexican border, shoppers can buy a goat and get their car windows tinted. Tables with handwritten signs touting Viagra are stocked with herbal remedies promising to burn fat and boost breast size. You can also find pills to end a pregnancy. Bazaars like this have become home to a black market where women too poor to afford an abortion at a clinic or deterred by state mandates such as a 24-hour waiting period can buy drugs to induce a miscarriage on their own.
Anthony Weiner Runs For Mayor of New York, and Away From His Past, Businessweek, July 3, 2013
Murderous Clown's Hiding Spot in Stephen King's 'It' Needs Taxpayer Help, June 17, 2013
NYC Mayoral Race Profile Series: Billionaire Grocer Catsimatidis in $190 Suit Seeks to Save NYC From Democrats, June 6, 2013
Boston Hero Looked Guy With Bag Straight in the Eyes, April 22, 2013
Bomb Suspects Now Mysterious to Those Who Thought They Knew Them, April 19, 2013
Boston Bomb Victim in Photo Helped Identify Suspects, April 18, 2013
Minutes before the bombs blew up in Boston, Jeff Bauman looked into the eyes of the man who tried to kill him.
Abortion Overshadows Oil Boom as North Dakota Aims to Topple Roe, April 14, 2013
+ tv interview on C-SPAN's Washington Journal
+ graphic: For North Dakota's Women, the Closest Abortion Clinic is a Long Drive
Coughing Cooks Stay Home as U.S. Cities Require Paid Sick Leave, March 21, 2013
For Abortion Pills, You Must 'See' Your Doctor, Businessweek, Feb. 14, 2013
BUSINESSWEEK: Regulating Away Abortion: How State Governments Are Running Providers Out of Business, Jan. 21, 2013
Intimidation, harassment, and the threat of violence used to be the biggest preoccupations for U.S. abortion providers. In recent years, however, the main threats have come not from noisy picketers and protests but from regulations passed in statehouses across the country. Instead of seeking to ban abortion outright, which would violate the Supreme Court's 1973 ruling in Roe v. Wade, anti-abortion groups are pushing laws that would make it too expensive or logistically impossible for providers to remain in operation.
New York's MTA Seeks $5 Billion in Sandy Aid After Firing Lobbyists, Dec. 13, 2012
NYC Subway-Station-Turned-Fish-Tank Poses $600 Million Dilemma, Dec. 6, 2012
Women Rule New Hampshire from Concord Statehouse to Capitol Hill, Nov. 8, 2012
Wall Street Scourge Warren Wins Election to U.S. Senate, Nov. 7, 2012
Gender Gap Widens in Massachusetts as Brown's Wife Hits Airwaves, Oct. 24, 2012
Romney on Verge of Home State Loss Makes Brown a Union Man, Oct. 18, 2012
Warren Pins Hopes on Minority Vote in Massachusetts Senate Race, Oct. 4, 2012
Democrats Risk No Female Governor for First Time in 17 Years, Sept. 12, 2012
Rainfall Down, Steak Prices Up, Businessweek, Aug. 30, 2012
National Guard Troops Roll in New Orleans to Prevent Looting, Aug. 30, 2012
Pal's Lounge in New Orleans Defies Isaac With Beer, Smokes, Talk, Aug. 28, 2012
+ watch me discuss how NOLA fared in the hurricane on Bloomberg TV's Political Capital with Al Hunt
Peter Luger Steak Prices May Soar After Drought Culls Herds, Aug. 21, 2012
Arizona's Ban at 20 Weeks Shows Country's Shift on Abortion Law, July 26, 2012
'Abortion Queen' in Last-Ditch Battle to Save Mississippi Clinic, July 12, 2012
BUSINESSWEEK: Poor Forever? Connecticut's Ribbon of Hardship, July 9, 2012
+ television interview on CNN
+ television interview on Bloomberg TV
+ television interview on Canada TV
A growing body of research now suggests that the widening wealth gap between rich and poor may be hindering our ability to fight poverty. A new finding nicknamed the Great Gatsby Curve makes the strongest case yet that inequality and mobility are intertwined—the more unequal a society is, the greater the likelihood that children will remain in the same economic standing as their parents. According to the Pew Charitable Trusts' Economic Mobility Project, Americans believe more ardently than their global counterparts that "people are rewarded for intelligence and skill." And yet, it may be as simple as this: More inequality means less opportunity.
Man Winning Most Married Mothers Poised for White House, June 25, 2012
Mississippi May Become First U.S. State With No Abortion Clinic, June 22, 2012
Warren's Sex a Liability in 'Boys Club' of Massachusetts Politics, May 11, 2012
Curbing Female Reproductive Rights Raises Cost for U.S. Taxpayer, April 3, 2012
Next Life: A Trader Turns Trainer, Businessweek, March 22, 2012
Grading Teachers Sparks Conflict as States Vie for Federal Grants, Feb. 23, 2012
A New Push for Gay Marriage Rights, Businessweek, Jan. 23, 2012
Gay Mainers Look For Chance to Be First to Win Marriage Rights From Voters, Jan. 13, 2012
Capital of U.S. Income Gap Festers Amid Connecticut Mansions, Dec. 12, 2011
Steinem's Wall Street Occupied as Women Still Earn Less Than Men, Dec. 5, 2011
Bankrupt Jefferson County's New Manager Says He Has No Regrets, Nov. 15, 2011
Jefferson County Bankruptcy A Blow to Long-Suffering Birmingham, Nov. 11, 2011
Toughest U.S. Abortion Law Nears Passage in Mississippi, Nov. 4, 2011
Occupy Wall Street Clashes Show Risks to Democrats in Embracing Protesters, Oct. 27, 2011
A Gay Wedding Windfall for New York, Businessweek, Oct 24, 2011
Wall Street Occupiers Depend on Kindness of Strangers for Personal Hygiene, Oct. 10, 2011
Poor Students Most at Risk as Supercommittee Weighs $3.5 Billion Cut, Sept. 29, 2011
Most Referendums Since 1998 Give U.S. Voters A Chance to Reject State Laws, Aug. 26, 2011
Islanders' Taxpayer-Funded Hockey Arena Bonds Face Nassau County Voters, Aug. 1, 2011
Frequent Fliers on the Public Dime, Businessweek, June 13, 2011
Family Planning Loses Out in the Budget Brawl, Businessweek, May 23, 2011
Utah State Gun, Maine Whoopie Pie Divert Lawmakers From Deficits, May 26, 2011
Abortion Battles Make Collateral Damage of Family Planning, May 13, 2011
Women Bear the Brunt of Public Sector Job Cuts, Businessweek, April 11, 2011
+ radio interview on WNYC
+ video: "Willis Sees Women Losing Jobs as States Balance Budgets"
+ radio interview on NHPR
Women Bearing Brunt of Job Cuts as U.S. States Balance Budgets, April 6, 2011
Bonds Beating Illinois Debt Belie Walker's Assertion Wisconsin Is 'Broke,' March 14, 2011
Poet's $2,000 Gas Reimbursement a Casualty in Walker's Wisconsin, March 8, 2011
Christie Escalates Teacher-Union War By Proposing End to Century of Tenure, Jan. 26, 2011
Big Short Eisman Vies With Goldman in Faceoff Over For-Profits, Jan. 24, 2011
Booker Struggles With Newark Recovery as Zuckerberg, Robertson 'Bet Big,' Nov. 22, 2010
Beachbody: Thinking Beyond the Infomercial, Businessweek, Nov. 18, 2010
The Popularity Issue: Gum, Businessweek, Aug. 16, 2010
A Jump in Hiring – But Only Part-Time, Businessweek, Aug. 9, 2010
Wal-Mart's Wind Power Gripe in Massachusetts, Businessweek, June 24, 2010
How Companies Become Carbon Dieters, Businessweek, June 7, 2010
Hey, It's Fuel – Don't Worry About Where It Comes From, Businessweek, June 7, 2010
New York Helicopter Commute for $200 a Day Signals Revival, March 26, 2010
Wal-Mart Spurs Sustainable Toy Animals Into $1 Billion Market, March 26, 2010